You will see over 60 Bikes covering 100 years of motorcycling.
We have from "A"(Allstate) to "Z"(Zundapp}; a large Harley-Davidson
presence, including a large AMF display. There are memorabilia
of The Shriners' Motor Patrol; Biker Movies mementos;
a very important piece of "Evil Knievel" history; and we have the
2 motorcycles from the 1980's TV series "CHiPS" – built by
George Barris for N.B.C. Network! Our collection includes a very rare
(one of 1053) INDIAN model 841 shaft drive bike built for the
U.S. Army in 1941. Another exhibit legacy close to home –
the "Kent Falcons M.C." riding club established 1937-1953.
There is an international array of Motor Scooters; and an
awesome volume of posters, photos, advertisements, and signs
that fill the walls. ALSO – we have both: a Harley-Davidson
50th Anniversary bike and 100"' H-D Anniversary bike!
It's a parade of showcases filled with interesting parts and
collectables from decades of riding. AND NOW…
We are proudly presenting 2 World-Class 'Post-Apocalyptic'
Rat Bikes designed and built by Scott Caraboolad –
of the "Ride-4-Life" Ministry. Bike 1 is the 8ft "Rocket Rat,"
just featured in 'Raw Bike' magazine with cover and layout.
Bike 2 is a monster rat at over 9ft long! It was built exclusively
for Bear's Museum and tagged as "The Bear-Enstein Rat."
Both are powered by Harley-Davidson 1970's Sportster motors.
So...If you ever considered BEAR'S a great destination
before, you will be in for a BIG SURPRISE NOW! Come Visit!
Museum OPEN
May – October yearly.
Closed During Winter Months
November – April
VIRTUAL

TOUR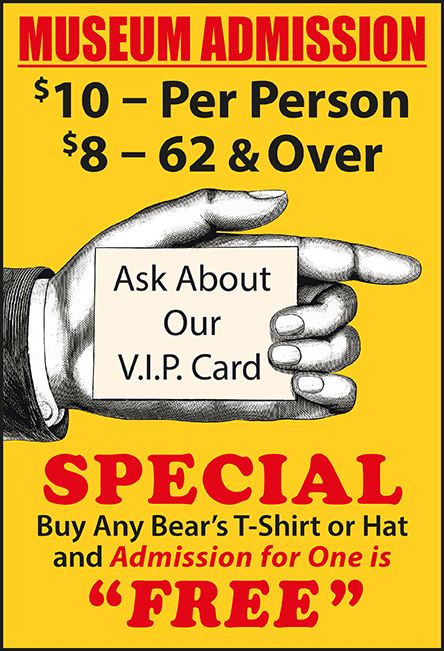 We can accommodate Large Groups
of 15 and Up by appointment.